Services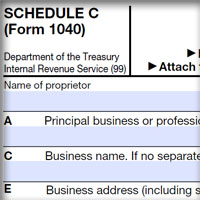 We offer everything individuals need to satisfy IRS income tax requirements including e-file and a variety of convenient refund options. Pay us from your refund or by cash, check, credit card, even PayPal. Out of town? Pay here on this website. We do not disappear after tax season like so many other tax preparers. We do not charge for off season client support.  Call us all year long and get tax help for free because we never charge for phone calls. Have a question about last year? Call us. Have a question about next year? Call us. Got a letter from IRS? Call us. All this and reasonable tax prep prices, too. It is no surprise that we keep asking you, "Why go anywhere else?"
Check our Latest News Tab for updates.  Follow us on Facebook for important changes as they occur.
Faster money – in two ways!
(1) Up to $6,000 refund loan overnight through February. Get your loan and refund by check in our office, direct deposit or on a card. Approval times may vary and restrictions apply.
(2) The PATH Act mandates IRS hold certain refunds until February 15 and it will take them a few days to catch up.  Otherwise direct deposits are expected in your bank or our office in as little as 2-3 days after IRS clears any security issues and are expected to average 7-10 days as in the past.  So we do everything legally possible to complete your return in ways that process faster. Combine the free advance with our good work and you can have quick cash now and the remainder in the fewest possible days. That is as fast as it gets this season.
Bank Product Refunds
No money to pay us? Pay us from your refund. Want to avoid the bank fees but no bank account? Our debit card may work for you. Need a bigger refund? First, we get your maximum legal refund then we charge less. That leaves a larger refund for you. That is truly more money in your pocket.
Tax Preparation For Individuals
We offer complete tax prep services for individuals including individual business and rental property owners. We specialize in families and individuals.  We support our clients with accurate work, lower fees, and free support all year.
Business Consulting
As a true business partner, we are available to help you deal with any business problem or opportunity. We stand ready to engage in business consulting projects to help you make the right decisions for the future of your business. Whether you face questions related to expanding, selling or restructuring your business, we have the necessary business acumen and analytical capabilities to help you make the right decisions.
Notary Public
A notary public can help you to handle various business matters, including witnessing and authenticating document execution and signatures. We offer Notary Public services and are available when you need us.
Tax Preparation & Planning
Effective tax preparation and planning can help you to minimize your future tax liability. We can help you proactively manage both your personal and your business tax issues, including understanding how upcoming business opportunities impact your tax status and vice versa. Not all tax planning opportunities are readily apparent. By having us on your team, you are more likely to benefit from those opportunities. We understand how the latest federal, state and local tax legislation and other developments affect you and your business and we are constantly identifying new ways to reduce federal, state or local tax liabilities.
We Help ALL Year Including Expense Tracking and Bookkeeping!
We can help save you money by answering your questions, by helping you understand your situation, and by helping you track and monitor your expenses and deductions using our pay-as-you-go limited bookkeeping service. Always we help you respond to IRS should the need arise. Don't guess. The call is free. If you're looking for a firm that will focus on your individual needs and always treat you like a client who matters, look no further.